(10 August 2022)
The US political landscape has been turned upside down following the
FBI's raid on former President Trump's residence at Mar-a-Lago.  The
unprecedented raid on the private home of a former president has
created a firestorm of reaction comprised of equal parts indignant
outrage and gleeful cheerleading as pundits scramble to determine its
ultimate political impact. 
It's still early but it seems to have galvanized the GOP behind Trump
even more than before.  Even though Florida Governor Ron DeSantis
remains his leading rival to be the nominee in 2024, Republicans appear
to be circling the wagons around Trump.  Of course, all this is subject
to change depending on what the DOJ chooses to share regarding the
legal justification for the search and what evidence was actually
found. 
Not surprisingly, Trump's horoscope is suffering from several major
afflictions these days.  Trump felt the impact of Monday's Mars-Saturn
square as it came to within just 3 degrees of his Midheaven (MC), or
unequal 10th house cusp.  The 10th house represents status and career so
this double dose of malefic energy was very likely to coincide with
some kind of setback.  While the 10.54 a.m. birth time is from birth
records and considered accurate, it is not unreasonable to think that it
could be a few minutes earlier which would make the Saturn-Mars
alignment that much closer. 
The other transit that stands out is the Venus-Pluto opposition that
activates his 12th house Venus.  The 12th house represents loss,
isolation and confinement so this affliction highlighted this
unfortunate natal placement.  The 12th house Venus conjunct Saturn is
one of the classic astrological signatures for divorce and Trump is
twice-divorced.  Venus is usually a benefic planet but it's placement in
the 12th with Saturn makes it more vulnerable to unwanted outcomes
when it is transited by negative planets.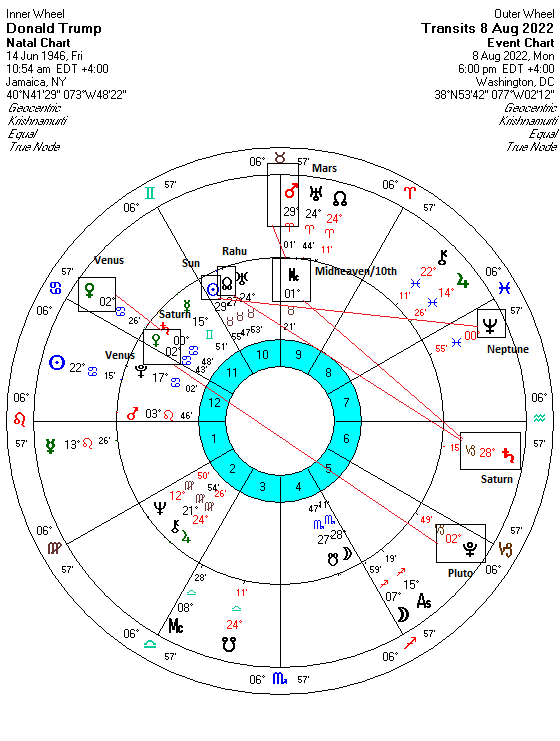 Venus not only pertains to marriage, but also to career since it rules
the sign of Taurus which is in his 10th house.  The key point to note
here is that the Venus-Venus conjunction isn't the problem; rather it
is the Pluto opposition that is activated by the faster-moving Venus. 
With Pluto symbolizing power and coercion, especially of a
Machiavellian nature, we see Trump here on the receiving end of the
Democrats' political wishes, as executed by the the DOJ and the FBI.  
The other difficult influence here is that transiting Saturn (28
Capricorn) is now under the 5th house/120 degree aspect of natal Rahu
(27 Taurus). Since Rahu is tightly conjunct the Sun in Trump's natal
chart, this Saturn transit is more likely to undermine Trump's
authority, sense of leadership and personal vitality.   And we shouldn't
forget that Trump's Sun continues to be afflicted by the square aspect
with Neptune as it has for the past year or so.  This Neptune
influence has further damaged his fortunes since it has a dissolving
influence upon the Sun. 
Looking ahead, I think Trump will remain in the defensive for a while
yet.  As I've written previously, his chart is significantly weakened by
the dual afflictions of two aspects involving slow-moving outer
planets: Neptune-90-Sun and Pluto-180-Venus.  Both will remain within
range for the rest of 2022 and even into early 2023.  After it completes
its current retrograde cycle in October, Saturn will again come under
the negative influence of natal Rahu in December 2022 and January
2023.  This will be a particularly difficult time for him when the
threat to his reputation and career could be at its greatest. 
Democrats are hoping to indict him on criminal charges in order to make
him ineligible to run in the 2024 election.  While his chart is
certainly bad enough that I wouldn't rule anything out for these next
six months,  I still think Trump is likely to run in 2024 and stands a
very good chance of winning.
Weekly Market Forecast
Stocks rallied today as the latest CPI report showed prices rose at
a slightly slower pace of 8.5% in July suggesting that inflation may
have peaked.  The rally follows some early week weakness that coincided
closely with the tense Mars-Saturn square.  As it often the case,
stocks tend to do better once an alignment involving malefic planets
(e.g. Mars, Saturn)  begins to separate. 
I would not be surprised to see some kind of
pullback over the next few days given Thursday night's Full Moon.  Full
Moons have a slight bearish bias in any event, but this one is more
likely to signal caution since it will form a conjunction with Saturn
within just a few degrees.  The Sun-Saturn opposition is due to be
exact on Sunday-Monday, so there is some additional downside risk
heading into next week.


For more details, check out my weekly subscriber newsletter which
is published every Saturday afternoon (EST).   In addition to
reviewing the key planetary and technical influences on US and
Indian stocks for the short and medium term, I also provide an
astrological analysis of potential upcoming moves in currencies,
gold and oil.