(17 August 2022)
As the rising cost of living forces consumers to cut back on spending,
it seems the risk of recession is increasing.  The economic outlook
remains very uncertain despite encouraging signs that inflation may be
moderating while employment continues to grow, albeit largely from
part-time jobs.  Nonetheless, recent data is very much a mixed bag. 
This week's housing report came in below expectations and July's ISM
manufacturing data extended its downward slide, even if it not quite
showing a contraction.   Perhaps more worrying is that China's stubborn
adherence to a zero Covid policy is wreaking havoc on the world's
second largest economy as this week's data was weaker than expected. 
As we know, Saturn is the planet that is most closely associated with
recession.  As the planet that symbolizes caution, pessimism and loss,
Saturn is usually prominent by aspect and sign placement during times
when the economy is slowing.  During the initial Covid outbreak and
subsequent lockdowns in early 2020, Saturn was doubly prominent since it
entered the sign of sidereal Capricorn and conjoined Pluto.  At the
time of the financial meltdown in 2008, Saturn formed a very rare,
simultaneous alignment with Uranus, Chiron and Neptune.
Therefore, if there is going to be a recession, we should also see some
similar Saturn influences in the transit chart.   In previous posts, I
have documented how this year's slowdown was correlated with the
Saturn-Neptune-Rahu-Jupiter alignment that was within range between
April and July.  While that alignment has now separated and exerts a
diminishing influence, we can see that Saturn is due to form an
alignment with Uranus in October.  The Saturn-Uranus square will be
closest at the time of the Saturn direct station on October 23.  While
this single aspect may not not sufficient to signal a recession, it
nonetheless increases the likelihood of further slowing, if not an
outright recession by that date.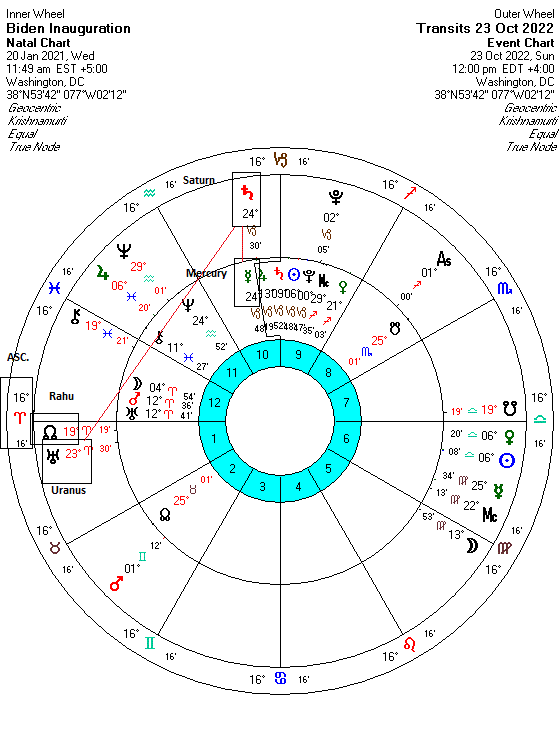 Another intriguing perspective on the US economy can be found in the
inauguration horoscope of the current president.  The inauguration chart
represents the "re-birth" of the country every four years and thus
generates a map of its changing planetary fortunes, both for the
president and the nation as a whole.   What stands out here is that the
this fall's Saturn-Uranus square will almost exactly align with the
natal Mercury (24 Capricorn) in the inauguration chart.  This is very
difficult alignment that greatly increases the likelihood of problems
and setbacks for the US during October. 
While the Saturn-Uranus square is in itself a negative influence for the
economy and the stock market, its impact on natal Mercury could
further undermine economic activity since Mercury symbolizes commerce,
transportation and communication.  Since all three areas are directly
connected with the economy, any specific damage to one of them would
have a detrimental effect on GDP. 
Mercury's symbolism is not limited to the economy, however, as this
affliction could also coincide with tension and conflict associated
with the midterm elections slated for early November.  At its most
general level, Mercury represents rational thought processes such as
counting and calculation, so its affliction by Saturn and Uranus could
translate into unusually divisive troubles related to the often
contested terrain of US politics.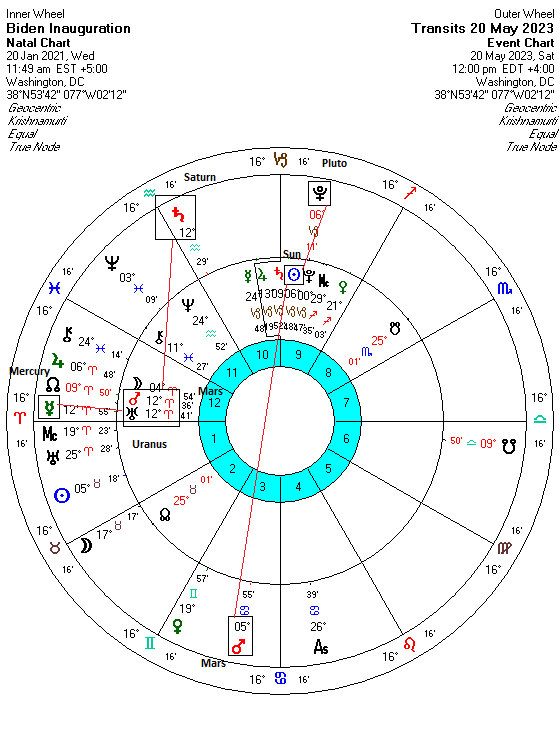 Besides this Saturn-Uranus aspect, Saturn will also form some difficult
aspects in the inauguration chart in the spring of 2023.  First, Saturn
(5 Aquarius) will align with Pluto (5 Capricorn) in the winter of
2023, although this alignment may only have a limited recessionary
impact since it will be relatively short-lived. 
The more worrisome aspect occurs from May to July when Saturn stations
retrograde in the 11th house of income at 13 Aquarius and thereby casts
its full-strength 3rd house/60 degree aspect on the dangerous
Mars-Uranus conjunction in the 1st house at 12 Aries.   While Mars does
have any direct connection with the economy, it is associated with
military action.  The Saturn influence here upon Mars-Uranus suggests
increased risk of major economic losses from military conflict.  And
with Pluto also conjoining the natal Sun at that time, there is an
additional layer of affliction here that could bring an unstable
geopolitical situation that further undermines economic confidence. 
All in all, these different Saturn influences over the next year or so
greatly increase the risk of a recession in the US.  Even if the Fed
ultimately succeeds in taming inflation, unemployment is likely to rise
significantly by next year while the stock market should trend lower. 
For more details, check out my weekly subscriber newsletter which
is published every Saturday afternoon (EST).   In addition to
reviewing the key planetary and technical influences on US and
Indian stocks for the short and medium term, I also provide an
astrological analysis of potential upcoming moves in currencies,
gold and oil.