(27 July 2022)
What is a recession?  Up to now, economists have defined it as two
straight quarters of negative growth.  But if the Biden White House has
its way, that could be changing.  Tomorrow's GDP report is expected to
deliver a negative Q2 print which would fulfill the definition of a
recession since Q1 was also negative.  But this week White House
officials such as Treasury Secretary Janet Yellen and even Fed Chair
Jerome Powell have suggested that the US is not in a recession and the
definition should be more flexible to account for a relatively healthy
job market. To be sure, unemployment remains under 4% although numbers
are beginning to creep higher.
Stocks surged higher today as the Fed hinted it could pause rate hikes
if inflation shows signs of moderating.  The rally was not hugely
unexpected given tomorrow's Jupiter retrograde station.  Jupiter, the
most bullish planet, stations twice a year wherein its direction appears
to reverse from our perspective on the Earth.  The five-day periods
around these stations can often coincide with positive market outcomes
since Jupiter's unusually low velocity increases its positive
influence.  As expected, we saw some early week selling on the
Mercury-Mars square but once that alignment had moved past exact late on
Tuesday, sentiment became more positive as Jupiter's energy could
shine through unimpeded. 
I would note that tomorrow's New Moon aligns fairly closely with that
stationary retrograde Jupiter and therefore could well coincide with
more optimism.   The Moon exactly conjoins the Sun around 2 pm EDT in
New York, while Jupiter will turn retrograde around 4.30 pm, shortly
after the close of trading tomorrow.    But just to muddy the waters,
there is a bearish contraparallel due tomorrow also, as Mars (15N00)
aligns with Saturn (-15S00) and introduces the possibility of a reversal
lower, later in the day or perhaps on Friday.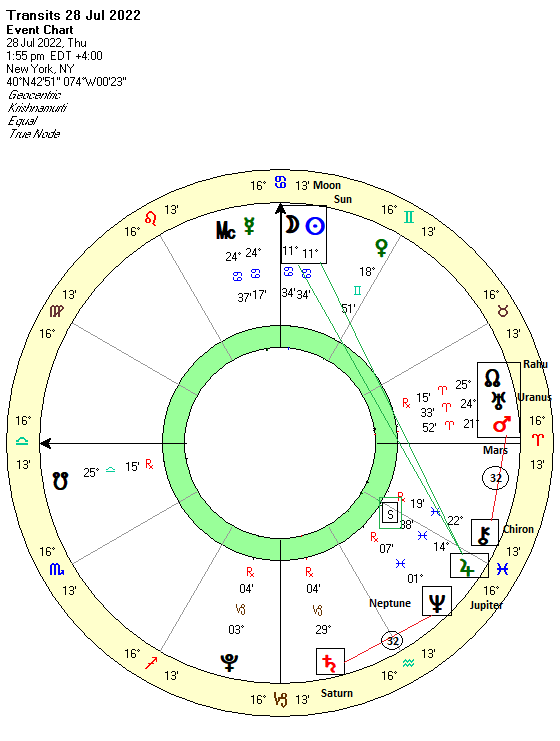 However, my attention is more focused on the triple conjunction of Mars,
Uranus and Rahu (North Lunar Node) set for Monday, August 1.  On
paper, this is a nasty-looking set up involving two malefics (Mars and
Rahu) that suggests high-energy and unpredictable events which could
bring some significant troubles.  While this alignment looks bad, a
quick check of the historical record shows that previous similar triple
conjunctions in January 1992 and April 2007 did not coincide with any
major market moves.  And the late April 2007 alignment was actually
bullish for the market.  Therefore, we should be careful not to jump to
any conclusions. 
And yet there is still some downside risk associated with this triple
conjunction since the transit of Mars in particular could activate the
ongoing Saturn-Neptune-Uranus-Chiron alignment.  As I have previously
noted, this four-planet alignment is one reason why markets have been
declining in recent months.  The difficulty stems from the fact that the
Saturn-Uranus midpoint (12 Pisces) is conjunct the Neptune-Chiron
midpoint (12 Pisces). This conjunction of midpoints sets up a bearish
resonance since Saturn is the decisive negative influence amid the other
three neutral planets.
Another way of understanding this alignment is that the angular
separation of Saturn (29 Capricorn) and Neptune (1 Pisces) is 32
degrees, which is the same distance between Uranus (24 Aries) and Chiron
(22 Pisces).  Since all four of these planets move very slowly, they
usually require faster-moving trigger planets to activate the other four
planets either by conjunction or by other alignments with 32 degrees
of separation.  This is what happened last Friday July 22, as the
market fell by more than 1% when Mercury and Venus were separated by
the same 31-32 degrees.   With Mars due to conjoin Uranus (and Rahu)
next week and thereby setting up a potential 32 degree trigger of the
larger Saturn alignment, there is good reason to be cautious.  Let's
see what happens.

For more details, check out my weekly subscriber newsletter which
is published every Saturday afternoon (EST).   In addition to
reviewing the key planetary and technical influences on US and Indian
stocks for the short and medium term, I also provide an astrological
analysis of potential upcoming moves in currencies, gold and oil.