(25 January 2023) Will US President Joe Biden run again in 2024?  Up until recently, it
was widely assumed that the 80-year old commander-in-chief would seek a
second term in next year's election.  Despite weak approval numbers
borne of overbearing governance and ongoing economic hardship, Biden was
generally expected to be the Democrat nominee for president in 2024.
But the controversy following the discovery of several batches of
classified documents in his private residence in Delaware has raised
questions about his electability.  Even if this documents case may be
seen as a minor case of bad judgment, what seems different this time
around is that the mainstream media appear to be more critical of
Biden's actions. After enjoying a fairly easy ride from the left-leaning
MSM in the past two years, the closer scrutiny on this issue raises the
possibility that Biden may no longer be a lock on the nomination.  The
classified documents scandal may well be a trial balloon in which the
Democrats seek alternatives to Biden for the 2024 election.
Unfortunately for Biden, his horoscope will come under renewed
pressure from Saturn in the coming months.  Readers will remember that
for much of 2021 and 2022, Biden's natal Mercury and Mars suffered under
the full-strength square aspect from Saturn.  While the US succeeded in
putting the pandemic behind it early in his administration, the ongoing
Saturn affliction in Biden's chart reflected the intractable political
divisions in the country and the growing economic difficulties from
surging inflation.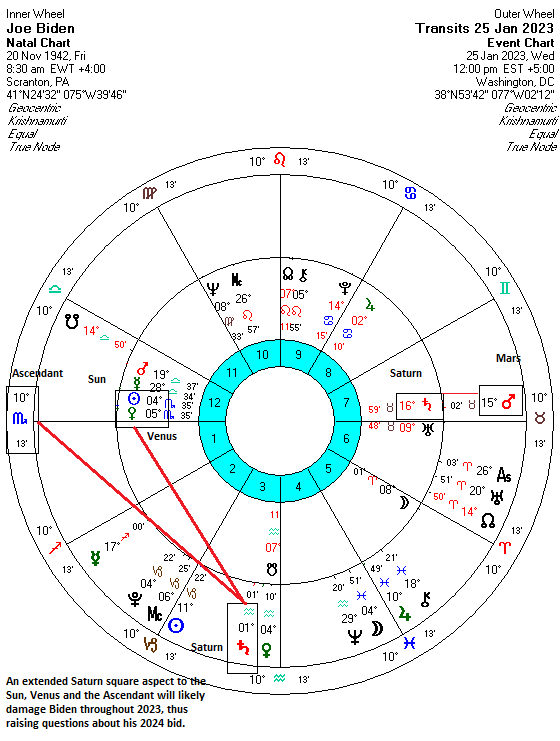 Now, Saturn (1 Aquarius) is forming yet another extended square
aspect to no less than three key points in his chart — the Sun, Venus
and the Ascendant.  The square aspect from Saturn will first exactly hit
the Sun (4 Scorpio) on February 23, then hit Venus (5 Scorpio) on March
4, and then finally hit the Ascendant (10 Scorpio) on April 16 or so,
assuming his time of birth is correct.  While these exact square aspects
all lie in the near future, we should view Biden's current problems in
light of Saturn's affliction since it is already well within effective
range to these planets.  And the really bad news for Biden is that
Saturn is due to station retrograde in June and will thus come back and
almost exactly square those planets in the fall all over again.  In
fact, those three points will not be free of the Saturn affliction until
early 2024.
To make matters even worse, Biden started his Saturn major dasha
period in September 2022.  As a rule, Saturn dasha periods tend to be
more difficult than the preceding Jupiter dasha periods (2006-2022) and
that is likely the case for Biden as he was both Vice-President and
President while running the Jupiter major dasha period.  The likelihood
of troubles and disappointment is even more likely for Biden since his
Saturn (16 Taurus) is closely afflicted by the 8th house aspect of Mars
(19 Scorpio) in his natal chart.  The wide oppositions from the Sun and
Venus are somewhat helpful but do not negate the affliction from Mars,
nor do they offset the natural malefic qualities of Saturn.  
Interestingly, this document scandal emerged just as Mars (15 Taurus)
stationed direct while conjunct his natal Saturn.
In terms of his re-election bid, we should pay special attention to
the condition of the Sun, his 10th house ruler of status and career. 
When that is afflicted by Saturn, Biden is more likely to suffer
setbacks related to his status.  One possible date to keep in mind in
that respect is the upcoming Sun-Saturn conjunction by transit at 3
Scorpio on February 16.  With Saturn just one degree from its exact
square to the natal Sun, we could see increasingly pressure on Biden's
leadership.  It is even possible he could announce that may not seek the
nomination for 2024, although that announcement could also occur later
in the year as the Ascendant comes under the increasing affliction of
Saturn.  April also looks especially vulnerable in this respect as Mars
transits his equal 8th house cusp (obstacles, scandals) while Rahu
conjoins his 6th house Moon symbolizing competitors. Even if Biden
doesn't pull out of the 2024 race at this time, other Democrats could
declare their intention to contest the nomination.
Overall, 2023 is shaping up to be a very difficult year for President
Biden.  With the heavy Saturn influence, it seems very possible that he
will not seek a second term.
Weekly Market Forecast
Stocks have been choppy in recent days as investors await the Fed
decision on February 1.  For their part, a fresh spate of corporate
earnings have been fairly mixed so far with companies often meeting or
beating consensus estimates but warning on guidance.  As expected, we
saw some upside to start the week as the Sun aligned with bullish
Jupiter.
While further gains cannot be ruled out in the coming days, the
approach of the Saturn-Neptune-Pluto alignment in February suggests
rallies may become more vulnerable to reversal.
For more details, check out my weekly subscriber newsletter
which is published every Sunday.   In addition to reviewing the key
planetary and technical influences on US and Indian stocks for the short
and medium term, I also provide an astrological analysis of potential
upcoming moves in currencies, gold and oil.
These updates are usually posted midweek.  You can be notified of new posts by following me on Twitter.