(1 February 2023) Fed Chair Jerome Powell must be feeling
pretty good today after delivering on the widely expected 25 basis point
rate hike.   Markets rallied strongly after the Fed decision in hopes
that the Fed may only raise rates one more time this year before
reversing course in the second half.   Investor optimism is rooted in
the belief that the Fed may now be able to engineer a 'soft landing' for
the economy, as inflation is tamed without inducing a recession.
But is the prospect of a more dovish Fed enough to lift stocks out of their bear market?  Readers may recall a previous post
where I discussed the Fed horoscope in context of the stock market.   I
suggested that an interim low for US stocks might coincide with a very
difficult Saturn transit (24 Capricorn) to the 8th house cusp of the
Fed's chart in October 2022.  Once Saturn stationed direct on Oct 23 and
began to move away from this sensitive point, market sentiment
improved.   As a general rule, I have found that when the Fed's
horoscope comes under transit afflictions by malefic planets, financial
markets become more vulnerable to declines.  While the correlation isn't
perfect, the connection between between the condition of the Fed's
chart and the stock market is always worth considering.
Another piece of the puzzle is the current dasha sequence in the Fed
horoscope.  The Federal Reserve is currently running its Rahu-Mercury
dasha period, which began in July 2021 and will last until Feb 2024. 
The Rahu major period (2013-2031) promises unexpected or unprecedented
actions which could have a disruptive effect on the wider society. 
Rahu's placement in the 9th house suggests an increasingly tense
relationship with authority (i.e. the US government) over the course of
its dasha period.  We can also predict that the Fed's Rahu period is
more likely to be unproductive and turbulent because Rahu is afflicted
by a square aspect from Saturn in the natal chart.   While there has
been long-standing debate about the true extent of the Fed's
independence from government, this Rahu influence suggests this
independence could be tested even more severely than it has in the past
(e.g. Arthur Burns under Nixon and Jerome Powell under Trump).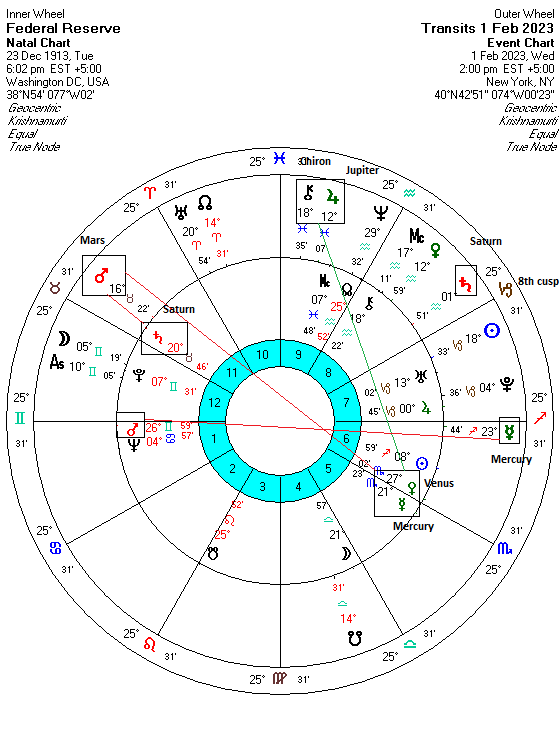 The Mercury minor period (2021-2024) could be a fairly difficult one,
both for the Fed and for financial markets.  While Mercury (21 Scorpio)
is a more benefic planet by nature, it is somewhat afflicted in the
natal chart as it is almost exactly opposite Saturn (20 Taurus). 
Mercury's close conjunction with Venus mitigates some of the damage from
Saturn, but I suspect it may not completely negate it.  Therefore, I
would think the Rahu-Mercury period will see the Fed forced by
circumstances to act swiftly to steady the economy while stocks are more
likely to underperform.  To a large extent, this promise has already
been fulfilled during the bear market in 2022.   However, the ongoing
bearish influence of Rahu-Mercury throughout 2023 and into early 2024 is
likely to further weigh on markets.
Looking at the current transits we can see that some of that recent
optimism may be tested soon as transiting Mars will conjoin Saturn and
oppose Mercury over the next few weeks.  With Jupiter fairly strong in
Pisces in the 10th house with Chiron, however, it's possible that
markets may not fare too badly over that time.  Also, the lack of any
clear transit affliction from Saturn (1 Aquarius) in February reduces
the probability of a huge market sell-off.  While Mars is bearish, it is
usually not as bearish as Saturn.
Of course, in terms of the overall market picture, the Fed horoscope
is only one factor out of many.  Even if there are no strong Saturn
influences in the Fed chart in February, Saturn is likely to manifest
its effects elsewhere through several midpoint alignments.  As a result,
sentiment may become more fragile in the coming weeks.
For more details, check out my weekly subscriber newsletter
which is published every Sunday.   In addition to reviewing the key
planetary and technical influences on US and Indian stocks for the short
and medium term, I also provide an astrological analysis of potential
upcoming moves in currencies, gold and oil.
These updates are usually posted midweek.  You can be notified of new posts by following me on Twitter.