(23 November 2022)
US stocks extended their rebound Wednesday as Fed minutes suggested a
willingness to slow the pace of interest rate hikes in the face of
moderating inflation pressures.  The S&P 500 pushed above the 4000
level to 4027 and came to within a stone's throw of the 200 day moving
average of 4059.  The rally wasn't too surprising given the bullish
seasonality at Thanksgiving and the favourable Mercury-Venus and
Sun-Jupiter alignments this week.
How long can this rally last?  The planets are pointing towards a
pullback in the days ahead.  Jupiter changes direction today (Nov 23) as
it ends its four-month long retrograde cycle. While not usually a
decisive influence, the change in direction of a major planet like
Jupiter can sometimes signal a trend change in the market.  More
important, however, is that Mars is due to align with Saturn early next
week.
On the face of it, the Mars-Saturn alignment may not look that bad
since it is a seemingly more constructive 120-degree alignment. 
Nonetheless, there is good reason to think that sentiment could worsen
significantly.  First, the Mars-Saturn alignment at 25 degrees of Taurus
and Capricorn, respectively, will recreate the same Mars-Saturn
alignment in late September that coincided with significant downside and
an interim low.   This time around their directions will be reversed
since Mars is now retrograde while Saturn is moving forward. 
Previously, Mars was direct and Saturn was retrograde.  So while it's
not exactly the same setup, it's close enough to warrant our attention.
The other factor to consider is that Mars will oppose both Mercury
and Venus next week.  Both of these alignments are bearish, not only
because Mars doesn't blend well with Mercury or Venus, but also because
the opposition aspect is usually more difficult.  The fact that Saturn
will also be present in the alignment could complicate matters somewhat
and introduce the possibility of short term moves in either direction.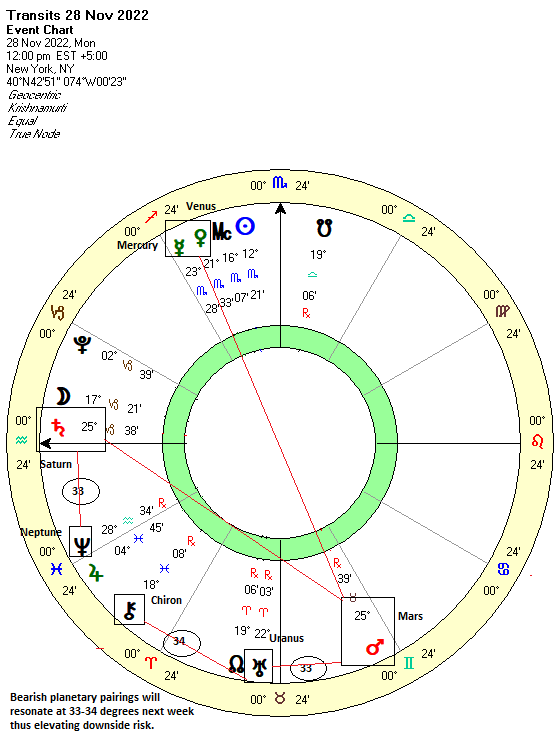 Additionally, we should note that the equivalent angular separations
of key bearish planetary pairings.  As a rule, whenever bearish
planetary pairs (i.e. those that include either Mars or Saturn) are
separated by the same angular distance as other slow moving planetary
pairs, declines become more likely.  Next week, we will have not one but
two such bearish pairings as the Mars-Uranus separation will be 33
degrees and this will almost equal both the Uranus-Chiron pairing (34
degrees) and Saturn-Neptune (33 degrees).  The resonance of Mars-Uranus
and Saturn-Neptune are particularly bearish since both are negative
influences.  While the accompanying chart  is cast for Monday, Nov 28,
we should note that the bearish influence will extend throughout the
week.
Significantly, there are no potentially offsetting bullish Jupiter
pairings, even involving faster-moving planets such as the Sun, Mercury
and Venus.  The Jupiter-Neptune separation is 6 degrees while the
Jupiter-Chiron separation is 14 degrees.  Neither pairing finds an
equivalent separation with the Sun-Mercury (=11), Mercury-Venus (=2) or
Sun-Venus (=9).  The absence of any positive planetary pairings
therefore increase the odds of some downside next week.
For more details, check out my weekly subscriber newsletter
which is published every Sunday.   In addition to reviewing the key
planetary and technical influences on US and Indian stocks for the short
and medium term, I also provide an astrological analysis of potential
upcoming moves in currencies, gold and oil.
These updates are usually posted midweek.  You can be notified of new posts by following me on Twitter.