(30 November 2022) Stocks rallied today after Fed Chair
Jerome Powell suggested that current economic circumstances may justify a
smaller 50 point rate hike as soon as next FOMC meeting on December
14.  All the major indexes rose sharply on the remarks and the S&P
500 even finished above its 200-day moving average at 4080.  The rally
follows some post-Thanksgiving weakness earlier in the week that had
resulted from worries that lockdowns and protests in China may extend
supply chain disruptions.   Covid-related supply chain disruptions have
been one of the main drivers of inflation in recent months.
While the early week declines coincided with several bearish Mars
alignments with Saturn, Mercury and Venus, today's rally was surprising
as it appeared to anticipate more favourable late week patterns, such as
the Moon and Jupiter conjunction.   In addition, I thought that some
early week declines were more likely since the angular separation of
Mars-Uranus (=33) matched that of Saturn-Neptune (=33).  Both of these
planetary pairs were bearish influences since each contained a bearish
planet — Mars and Saturn.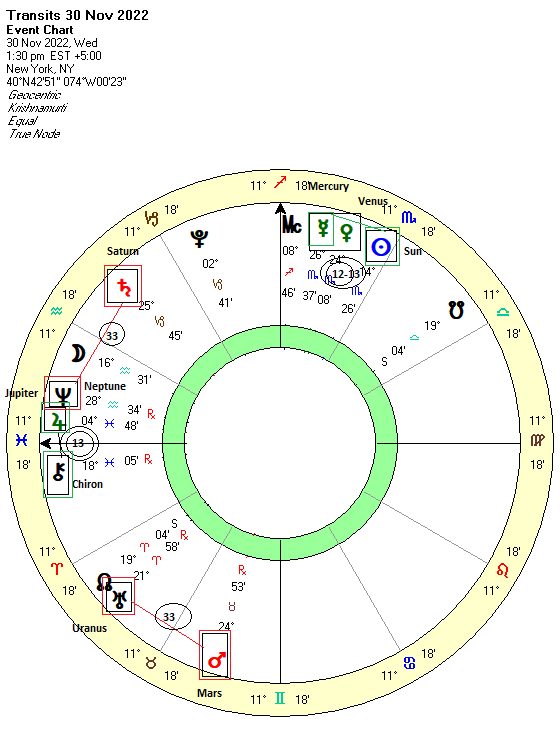 One possible explanation for Wednesday's strong rally is that this
angular separation had moved past exact as Saturn's forward motion had
reduced the angular separation to a bit less than 33 degrees.   With
both Mars and Uranus moving in slower retrograde motion, their angular
separation remained fairly constant at 33 degrees, or 32 degrees 55
minutes, to be exact.  The negative effects of the two planetary pairs
therefore diminished once they moved past their point of equal angular
separation.
At the same time, we can see two bullish pairings approaching a point
of greater resonance.  Jupiter-Chiron (=13 degs 17 mins) is approaching
the same angular separation of Sun-Mercury (= 12 degs 11 mins). 
Since Mercury is the faster of the two planets, this angular separation
is widening every day and will exactly match the angular separation of
Jupiter-Chiron on Friday.  While I expected some late week upside on
this four-planet alignment, today's rally arrived a bit ahead of
schedule and with considerably more force.
While some follow through to the upside is very possible from this
pattern, next week's Sun-Mars opposition on the Full Moon on Wednesday
and Thursday looks more bearish.
For more details, check out my weekly subscriber newsletter
which is published every Sunday.   In addition to reviewing the key
planetary and technical influences on US and Indian stocks for the short
and medium term, I also provide an astrological analysis of potential
upcoming moves in currencies, gold and oil.
These updates are usually posted midweek.  You can be notified of new posts by following me on Twitter.