(8 March 2023) The war continues in Ukraine will no end in sight.  The first
anniversary of Russia's invasion of Ukraine two weeks ago was marked by
little fanfare by either side as the war has entered a more punishing,
attritional phase.  Ukraine regained some of its lost territory in the
fall but the winter has seen Russia counterattack as Putin's armies
remain in control of much of the four contested provinces in the east.
Fighting has been particularly intense in the strategic town of
Bakhmut and it now looks as though Russia is on the verge of capturing
it.  Both sides had funneled considerable resources of men and materiel
into the town with thousands of dead and wounded on both sides.  While
objective reporting of the war is hard to find, it seems that Russia may
be taking the upper hand as equipment shortages are hampering Ukraine's
effectiveness on the battlefield.  Newly-pledged NATO tanks may be
greatly appreciated by President Zelenskiy, but it could be some months
yet before they can make a difference.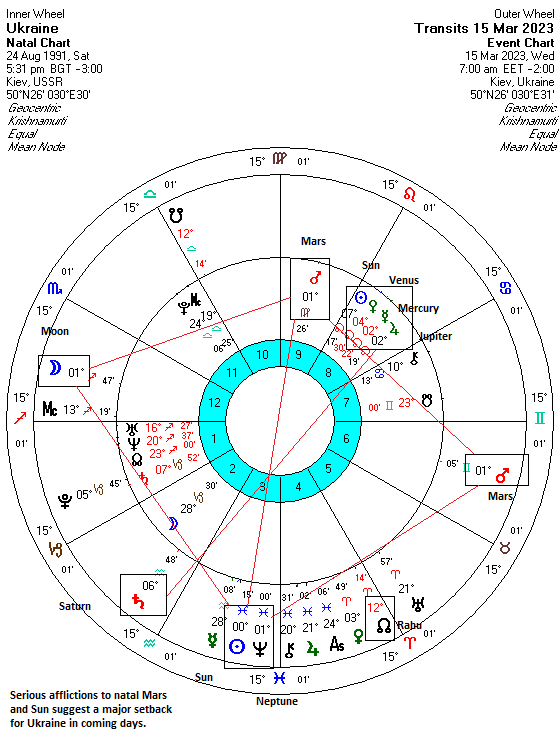 The horoscope of Ukraine suggests they are in a very tough spot at
the moment.    Transiting Saturn (6 Aquarius) is forming a very close
opposition to all of those planets in early Leo.  The Saturn influence
on Jupiter, Mercury and Venus reflects the economic devastation that
Russia has inflicted on its infrastructure as Ukraine has become almost
entirely dependent on NATO financial and military support.  Its economy
has been so thoroughly disrupted that even government payments to its
senior citizens is now being supplied by the US.   And now the Saturn
opposition is approaching the Sun, the planet that signifies government
and its leadership. Zelenskiy himself may be facing a difficult
situation in the coming days as the probable loss of Bakhmut could
seriously erode moral and confidence and cause some of its allies to
question their sponsorship.
More immediately, we can see a very intense Mars alignment occurring
in the middle of next week.  On Wednesday, March 15, natal Mars (1
Virgo) will be exactly squared by transiting Mars (1 Gemini) and opposed
by both the Sun (0 Pisces) and Neptune (1 Pisces).  The transiting Moon
on Wednesday morning completes the high-energy Grand Cross alignment
which should coincide with a significant Mars-type event.  Since Mars
signifies the military, of course, it seems likely that Ukraine will
suffer a military defeat.  Given the deteriorating situation in Bakhmut,
it is possible that it will finally be lost to the Russians on or near
this day.  That said, the other afflictions in the chart suggests it
could actually be an even more important setback which damages the
government (Saturn-Sun) in some way other than a loss of a single town.
It is unclear how financial markets might react to a major Ukrainian
military defeat.  Markets have likely largely discounted the probable
loss of Bakhmut, so it is unlikely is a simple defeat there would move
markets very much.  But if there is additional political fallout from
some such setback, it could have a larger impact on investor sentiment. 
And with Tuesday's much-awaited US CPI number, next week is shaping up
to be a memorable one in the markets.
For more details, check out my weekly subscriber newsletter
which is published every Sunday.   In addition to reviewing the key
planetary and technical influences on US and Indian stocks for the short
and medium term, I also provide an astrological analysis of potential
upcoming moves in currencies, gold and oil.
These updates are usually posted midweek.  You can be notified of new posts by following me on Twitter.
Photo Credit: UNICEF Ukraine