(14 September 2022)
Stocks have fallen sharply this week as Tuesday's CPI number for
August came in higher than expected.  The S&P 500 fell 4% while the
Nasdaq lost 5% as the annual inflation rate rose to 8.3% and the
closely watched Core inflation rate also rose to 6.3%.  Today's
wholesale PPI rate didn't provide much relief as the Core rate rose to
7.3% in August even if the headline PPI slipped a bit to 8.7% from
8.8%. 
Investors had been hoping for evidence that inflation was starting to
come down, thereby giving the Fed room to pause its rate hike cycle. 
Instead, this latest data will likely force the Fed to continue to hike
aggressively in the months ahead, as the Fed Watch tool how sees a 76%
probability of a 75-basis point hike at next week's FOMC meeting.
This week's stock market decline is not surprising.  There were several
factors in play this week that pointed towards some downside.  First,
Mercury turned retrograde last Friday, Sep 9.  Mercury retrograde has a
well-deserved bearish reputation, even if it has a significant error
rate.  Indeed, Monday's gain appeared to negate the effect of Mercury's
backward motion, if only for a day.  The retrograde cycle is more than
just a single day, however, and highlights a period of about three
weeks when markets are more vulnerable to declines and unexpected
reversals.
Second, Mars is afflicting Venus this week by 90-degree square aspect. 
While the aspect is closest on Friday, Sep 16, the Mars-Venus square is
within range all week and increased the probability of some negative
market outcomes.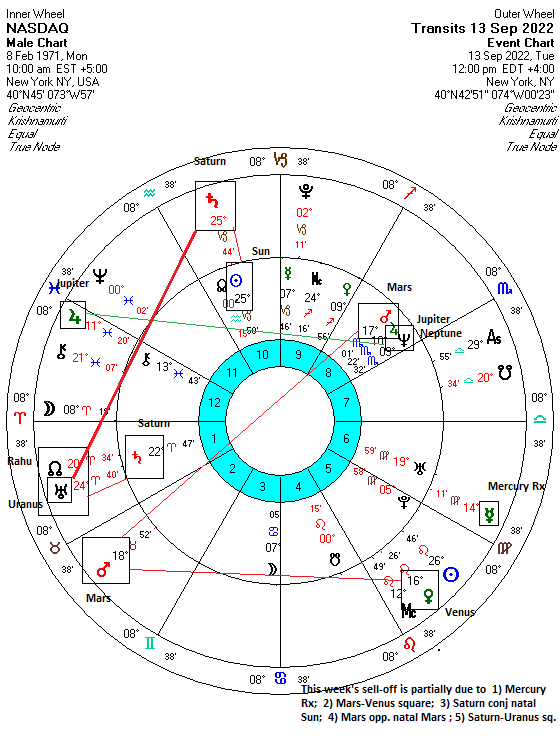 Third, Saturn (25 Capricorn) is quickly approaching its square alignment
with Uranus (24 Aries).  This still has a few weeks to go before its
closest alignment but it is well within range to have some negative
effects on sentiment.  As a rule, all hard aspects involving Saturn are
bearish, especially those involving slow moving planets such as Uranus.
If we take a look at the horoscope of the NASDAQ (Feb 8, 1971), we can
see that there were other afflictions this week.  Transiting Saturn is
almost exactly conjunct with the natal Sun at 25 Capricorn. This is a
terrible influence which is strongly associated with negative
outcomes.  We should note, however, that due to the slow speed of
Saturn, the conjunction with the Sun is within an effective range for
several weeks.   Nonetheless, Tuesday's 5% decline did occur when
Saturn was just 7 minutes of arc past its exactly conjunction with the
natal Sun  It was exact on Sunday, Sep 11.  Saturn will continue to
back up to 24 Capricorn during the final weeks of its current
retrograde cycle when it will station direct in late October.  Even
then, it will remain be a potentially negative influence on the Sun and
thus, the NASDAQ as a whole. 
And we can see that the Mars-Venus square aligned with the natal Mars
(17 Scorpio) in the NASDAQ chart.  This is another high probability
bearish alignment since aspects of Mars to its natal position tend to be
bearish, especially the square, opposition and conjunction.  Mars is a
day or two past an exact opposition with natal Mars but Venus is still
a day short of an exact square.  Together, their influences may have
averaged out and coincided with a sharp decline on Tuesday.
Looking ahead, it is very possible we could see further downside later
this week as the Mars-Venus square will tighten on Thursday and Friday. 
It seems likely that we will see some positive effects from Jupiter's
aspect with the natal Jupiter-Neptune conjunction (9-10 Scorpio)
sometime over the next week or two.  And yet with the Saturn-Uranus
square firmly anchored to the Sun in this chart, a strong rebound in
October looks quite unlikely. 
For more details, check out my weekly subscriber newsletter which
is published every Saturday afternoon (EST).   In addition
to reviewing the key planetary and technical influences on
US and Indian stocks for the short and medium term, I also
provide an astrological analysis of potential upcoming moves
in currencies, gold and oil.