(15 February 2023)  Gold has extended its decline this week
after Tuesday's CPI print came in higher than expected.  While still
lower than the previous month, the stubbornly high 6.4% annual rate of
inflation rate has reminded investors that the Fed will likely to have
to keep rates 'higher for longer'.  Higher interest rates are generally
anathema to gold since elevated yields tend to be more attractive to
investors who receive no such compensation for holding bullion.  Gold
finished Wednesday's session at $1845, well below its February 2 high of
$1975.
The pullback in gold is not unexpected once we take into account the
relevant planetary alignments.  First, we should note that this week's
Sun-Saturn conjunction at 3 Aquarius is typically bearish as Saturn's
constraining nature tends to block the Sun's promise of traditional
wealth and prosperity.  Since the Sun is one of the key planetary
significators for gold, it is not surprising that this affliction by
Saturn should coincide with a significant decline in the price of
bullion.
If we look at the 1919 horoscope for gold, we can also see another
culprit for the current consolidation.  Ketu (South Lunar Node) is
exactly transiting over the Ascendant at 12 degrees of sidereal Libra. 
In financial astrology, Ketu-Ascendant configurations tend to be bearish
since Ketu is associated with anti-materialistic and spiritual
qualities which are inimical to the world of mundane economic gains. 
And the square alignment of Mercury (11 Capricorn) to the Ascendant-Ketu
conjunction likely added to the negative price action for gold this
week.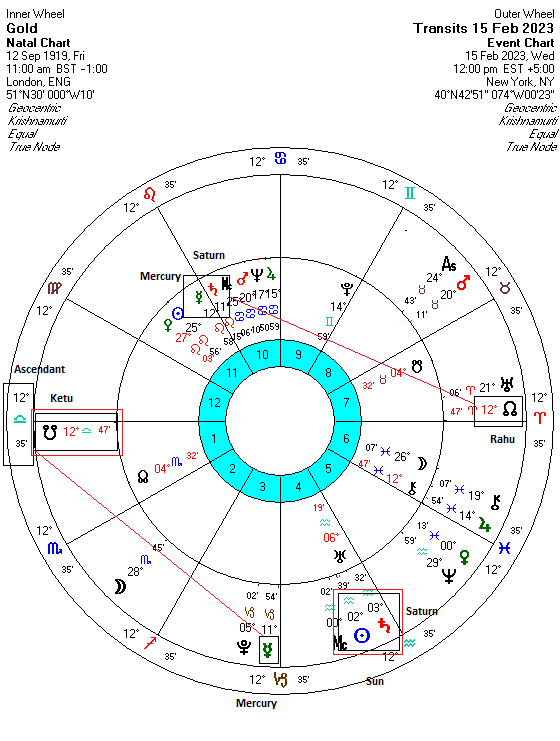 Moreover, the gold chart suffers further affliction since transiting
Rahu (12 Aries) exactly aspects the Mercury-Saturn conjunction in the
natal chart at 11-12 degrees of sidereal Leo.  While Rahu is usually
less malefic than Ketu in financial matters, its influence here on
Mercury and Saturn is unhelpful since it combines poorly with both of
these planets.  By contrast, Rahu-Venus or Rahu-Jupiter aspects can
often be bullish.
While the slow-moving Ketu and Rahu afflictions could well depress
gold prices for a while longer, it is quite possible we could see gold
enjoy a  bounce in coming days as the Sun begins to move out of range of
its conjunction with Saturn.  For the record, the exact Sun-Saturn
conjunction occurs tomorrow, February 16, at 11.48 a.m. EST.  This
conjunction may be seen as a moment of theoretical maximum bearishness
for gold in the short term.  Of course, other concurrent influences from
the likes of Ketu and Rahu will adhere to their own timetable.
For more details, check out my weekly subscriber newsletter
which is published every Sunday.   In addition to reviewing the key
planetary and technical influences on US and Indian stocks for the short
and medium term, I also provide an astrological analysis of potential
upcoming moves in currencies, gold and oil.
These updates are usually posted midweek.  You can be notified of new posts by following me on Twitter.