Enjoy this post? Share the love.
The Wagner Daily – January 10, 2023
Below is the full, archived issue of The Wagner Daily swing trading report (sent to members the night before the publication date).
Subscribe now for your access to the best stocks for swing trading, proven Morpheus stock trading strategy, and market timing model with a 20-year track record.
Just drop us a comment with any questions or comments–we'd love to hear from you!
---
MTG Market Timing Model –  Sell (as of 12/15/22) due to a break of 20ema in the S&P 500
Our timing model was designed to keep our trades in line with the prevailing market trend, not to call tops or catch bottoms in S&P 500 or Nasdaq Composite.
today's watchlist along with open and closed positions:
No trades triggered.
$UTHR removed from the watchlist.
Broad market averages closed with back-to-back reversal candles, as Friday's bullish reversal gave way to Monday's bearish reversal.  
Monday's action creates a potential lower high in most broad-based averages.
$SPY lower high at the 50-day MA, with the 200-day MA just above. Market conditions are tricky here, as the S&P is close to its 50-day MA and could just chop around for a few weeks to create a base with a higher low in place since the October low.
$QQQ potential lower high just below the 50-day MA.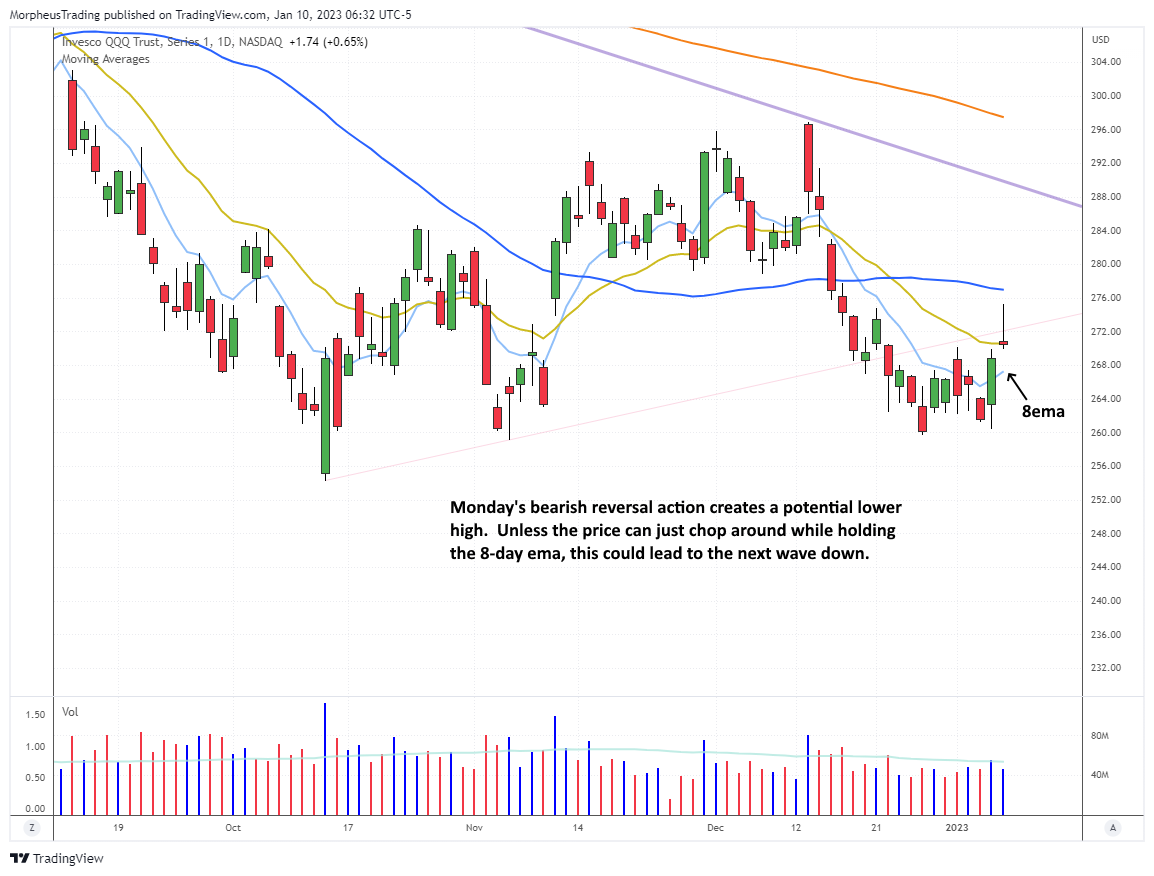 $S&P 400 is working on a second lower high into a short-term downtrend line.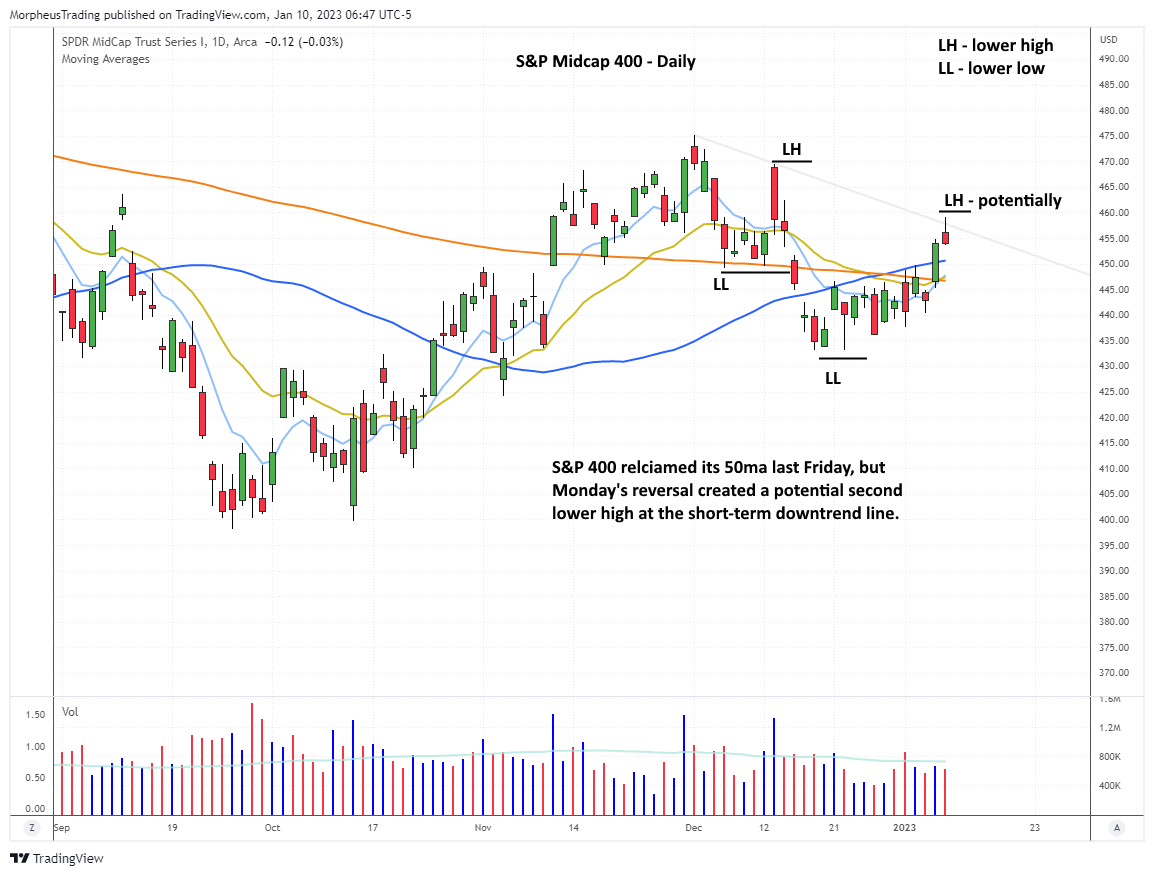 Again, these charts will have to be monitored daily for confirmation of a bullish or bearish scenario playing out.
$UTHR did not trigger on Monday and is removed from our watchlist. There are no new setups for Tuesday, but we are monitoring $TITN for a pullback entry.
$TITN gapped up on big volume and has so far held the gap up day low and 20-day EMA minus a shakeout week. Price cleared the downtrend line and is pushing higher. Let's see if Monday's reversal leads to a 2-3 day pullback and a touch of 20ema.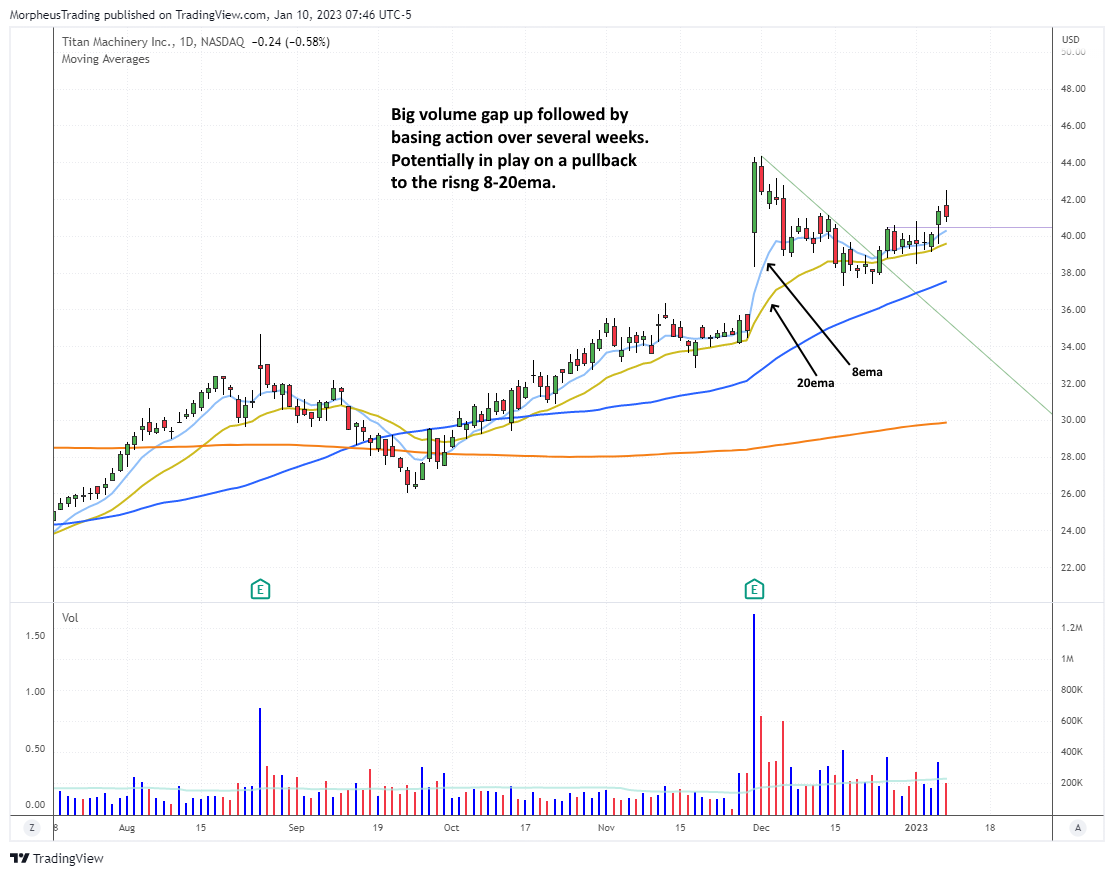 Unofficial Setups 
Longs – watching $FIVE TGLS $JD $APO $RMBS $TEX $TITN $MOD $ELF
Shorts – $AAPL $ABNB $TDOC $DDOG $NET $CRWD $ZM
See you in the chat room,
Rick 
Click here to view this week's watchlist in google sheets
Start my Wagner Daily membership now to start receiving winning Morpheus stock trade signals, including a stock portfolio you can easily follow. The Wagner Daily PRO includes live swing trader room for daily, real-time trade ideas and powerful stock trading education.
Enjoy this post? Share the love.